Post by Billy King on May 2, 2019 12:24:44 GMT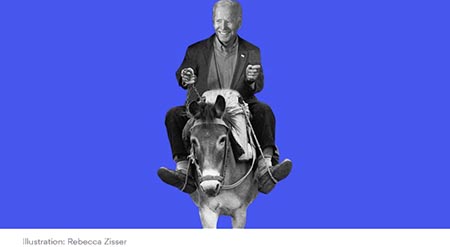 hey ya'll
it's that time again. where we, as americans, the most privelaged and free people in the world get to decide between a douche and a turd to run the goddamn world.
While the Turd running this election, will presumably be Donald J. Trump (ignoring Bill Weld and Larry Hogan and John Kasich atm), the race for who will get to be the Douche, is still in a dead heat.
I'd like to introduce a high quality metric called "BR" also known as, Billy Rating. This Billy Rating is directly correlated to how likely a candidate is to win the nomination to become the next douche. After the Douche title has been secured, Billy Rating will be expanded to indicate who is most likely to win the white house. 
With almost a year to go before any votes are being cast, the field is still in turmoil.
We will be looking at the current Douche Polling numbers for the presidential nomination and try to suss out and possible difference from straight support. While early polling numbers are indicative of some tepid support, over 60% of democratic voters have indicated they feel likely to change their mind by the end of the primary cycle.
Without further ado the top Entries according to an average of all Douche Party nominee polls:
Name Polling BillyRat

Biden 32.8 28

Sanders 19.4 21

Warren 8.4 10

Buttigie8.4 14

Harris 7.2 16

Beto 5.6 6

Booker 2.2 5

Klobucha1.4 4

Yang 1.4 9

Castro 1.2 1

Field <1 1
The top contender, with a poll rating of 32.8 is J
oe Biden
. Recently announcing for the race, I give him a slightly lower Billy Rating of 28% chance to capture the nomination. This is lower than his poll numbers for a few reasons: 
1) It's likely a small amount of his support (15-25%) is based on name recognition alone. This is especially true for minority voters, who back Biden over people like Sanders by 50+ margins, while the rest of the nation only has the difference in single digits. As the nominating contest gets closer, and is watched more avidly on social media, BR expects his support with minority voters to erode. It will only take a debate or two of Kamala Harris and Elizabeth Warren nailing him in the same way that Hillary Clinton was nailed over criminal justice reform, etc. As 2016 moved along, you saw minority support for Clinton erode into Bernie at the time. However, with other more minority-focused and racial justice themed campaigns this time around we here at the BR offices really doubt that Sanders will be where these votes end up in this cycle.
2) His only real appeal in a democratic party moving left is electability. Yay verily, a majority of democratic primary voters (60%) say that electability and defeating trump is their #1 goal in 2020. While hitching your horse to Joe Biden's wagon for this reason seems like a good idea at face value, it could come to backfire later. Hillary Clinton depended on winning over independents and Trump haters, and we know how that turned out. Her lack of motivation of the base, which we saw in 2008 and 2012 with Obama, caused her razor-thin losses in normal democratic rust belt strongholds, while the anti-trump vote was racked up in places like California. The nomination process is different from the general election, but voters who see Biden as the best candidate to beat Trump should think about it some more.
The next top name is someone who has had most of us 'Feeling the Bern' for awhile now. Polling at a little below 20%, most people are worried about the idea of the self-described Democratic socialist emerging as the nominee. Here at Billy Rating Inc., we have
Bernie
slightly higher than his current polling numbers in the democratic nominee chances. Bernie's fans are extremely loyal, and he has one of the highest name recognition and favorability among anyone running for president this year. We see it unlikely that many of his supporters would switch over to another candidate before the voting starts, but also find it unlikely that many voters will end up "Feeling the Bern" if they haven't already. Bernie's biggest threat, both for getting the nomination, and for losing the nomination, lies in taking the primary into a contested democratic convention. His grassroots and caucus going supporters would have a good chance of being on one of the later ballots during the convention, but at the same time it is very likely that the large anti-Bernie crowd would find it easy to congregate around whomever else ends up being alongside his name at the later stages of the convention.
In 3rd place, we see
Elizabeth Warren
. Her recent surge has been driven in part by extended media coverage over some new far-left detailed policy proposals she has been hounding, mainly free college, and the elimination of public student debt for up to $50,000. People are split on whether these are good ideas, and exactly how to pay for them (Warren, to her credit, has unveiled specific tax increases to offset almost all spending she has proposed). Probably the furthest left of any candidate, arguably even Bernie, she has a strong chance to keep and gain support among democratic activists as other candidates drop out of the race. However, the large segment of democratic voters worried about "electability" are very concerned about Warren's chances to enter the White House in 2021, with a lot of sources indicating that they would see her entire campaign begin to implode as soon as DJT says "Pocahontas" on the debate stage.
Finally, we are going to just realy quickly mention the next three candidates in the race, according to their relative polling numbers. Buttigieg, Harris, and Beto have all officially announced they are running for president. Relatively young candidates relative to the top 3 in the polling, these fresh faces are looking to take the democratic primary by storm.
Beto
, at this point, seems like the least likely candidate to stick around according to sentiment here in the Billy Rating offices. Wildly popular, and a mainstream media sensation, during his run against Texas Sen. Ted Cruz, Beto came closer than any democrat at winning state office in Texas for a decade. He did this running on a platform of 1) Impeaching Trump, 2) Humane Borders, and 3) Taking away guns. The fact that these proposals got 48% of votes in Texas set off alarm bells among establishment candidates that were worried for him to enter the race. However, an ill-advised dentist trip and literally months of just sitting on his ass while everyone else campaigned caused him to lose the flaky millenial-based support his campaign relied now. Now he's just another white dude driving a suburban around iowa. Because of this his BR is much lower than his current polling numbers.
Harris
looks like the establisment, (both RNC and DNCs) favorite to emerge from the lower tier of candidates into actually winning the nomination. She doesn't have any really large flaws, except for having worked as an overzealous attorney general in california which at times seemed more interest in just throwing random people in jail, instead of actually forging a system that works for everyone. A member of law enforcement when the democratic base hates them, she has an uphill battle to fight, but could be one of the most formidable opponents of Trump in the election. She's Hindu however, so probably DOA. However, her Billy Rating is the highest among any of these contenders, due to her being the likely short straw in a contested convention if Biden falters early.
Buttigieg
is the surprising new upstart in the last few months. Much like Beto's rise over last year, it has been driven by a large amount of MSM cuddling, and a lot of very authentic-seeming interviews. Being a mayor of a small town in Indiana, "Mayor Pete" as he is affectionately called, hasn't had to burden himself by taking risky stances over his years in federal government. Nor does he have a voting record to heavily scrutinize. Worries abound though, over his ability to court independents and minority voters, being a 37 year old white gay mayor. His fundraising hauls have been impressive though, so look for a campaign that has been mostly about getting recognized start to flesh itself out with strategies to court these type of voters. Right now we're giving him a slightly lower chance than Harris to capture the nomination, but he could easily fall back down to Beto numbers, or find himself being the clear 3rd wheel to Biden and Sanders between now and the first June debate.